Genre: Jazz

Location BOSTON, Massachusetts, US

Profile Views: 126098

Last Login: 12/14/2012

Member Since 1/10/2006

Website www.WalterBeasley.com

Record Label Heads Up/ Affable Records

Type of Label Major

Bio

.. ........ ..Click!.. .. .. .. .... ..Listen To The Whole Album Before You Buy.. ....I just purchased sax meditations. As always your ability to play beautiful melodies is incredible. I am going to also recommend to students your DVD which I purchased as well. Keep up the great work!!! Your friend.. Najee.. ..Walter Beasley Live & More.. .. .. .. ..Click To Purchase.. .. .. .. .... .. .. .. .... .. .. .. ..Walter Beasley Presents: 14 steps to maximizing Your Performance.. .. .... .. .. .. For More Products & Information on Walter Beasley please feel free to visit ..WalterBeasly.com.. .. .. .. .. .. ...... Walter Beasley's Performance Workshop March 4, 2007. Walter explores various topics as in improvisation, entrepenourship, historical connections while playing songs from his new record Ready for Love as well as For Her. .. .. .. .. .. ...... Walter Beasley brings you a lesson on the seemingly magical technique, Circular Breathing. By faithfully following Walter Beasley's special practice routine's you can add circular breathing to your playing repertoire. .. .. .. .. .. ...... For Jazz, Pop and R&B Vocalists. This DVD includes demonstrations by Walter and lessons with vocal students. Improve phrasing, develop personality and style in your delivery, and learn how to engage an audience. Rehearse techniques using a DVD Rom practice guide and bonus audio CD. .. .. .. .. .. ...... For beginning, intermediate and advanced improvisors, this DVD is the first of its kind. It will help you to make your improvisations soulful and concise. It also includes a play-along CD, complete scores, licks and printable scale reference pages. .. .. .. .. .. ...... Now available for download and on DVD! For alto, tenor and soprano saxophone. Optimize your sound, improve your pitch, get practical solutions for sound problems and unify registers. .. .. .. .. .. ...... Renowned artist and former classmate Branford Marsalis describes Walter Beasley as "an anomaly; a successful performing musician who possesses the rare skill of understanding the musical process beyond the intuitive. This special ability enables Walter to communicate with aspiring musicians in a way that removes the sense of mystery that sometimes enshrouds our profession." .. .. .. .. .. ...... La Nina (Ready For Love) Transcription (pdf) .. .. .. .. .. ...... Transcription of Willa Mae's Place, as performed at the March 4th, 2007 Workshop. .. .. .. .. .. ...... Transcription of Rhea's Song from the March 4th, 2007 Performance Workshop. .. .. .. For More Transcriptions Visit ..www.WalterBeasley.com.. .. .. .. .. ...... Branford Marsalis discussing jazz and r&b improv., Sting, historical connections and musicianship. .. .. .. .. .. ...... Walter Beasley recently was a guest instructor for a gospel workshop. In a lesson with a student Walter covered vibrato, pacing and delivery. They used the gospel standard Jesus You're the Center of My Joy to examine different ways to use technique's involved in vocal performance and delivery. .. .. .. .. .. ...... Walter had the chance to interview one of his hero's Ronnie Laws. In this interview they discuss Ronnie Laws career, philosophies on improv and songwriting. .. .. .. .. .. ...... Walter got the chance to sit down with Chuck Loeb and discuss his career as well as give some valuable career advice to fellow musicians. Chuck Loeb discusses his career influences, writing process and the future of the industry. .. .. .. .. .. .. .. .. .. .. .. .. .. .. .. .. .. .. .. .. .. .. .. .. .. .. .. .. .. .. .. .. .. .. .. .. .. .. .. .. .. .. .. .. .. .. .. .. www.Walterbeasley.com.. .. .. .. .. .. .. .. .. .... .. .. .. .. .. .. .. .. .. .. .. .. .. .. .. .. .. ........e.com/p1/216172782121743002/un_t016_v000_a001_f00/images/xslide1.gif" border="0" ismap="ismap" />.. .......... .... .. .. .. .. .. .. .. .. .......... .......... .... .. .. .. .. .. .. .. .. .......... ..........

Members

.. New! Walter Beasley Cleveland Performance.. .. .. .. .. .. .. .. .. .. New! Walter Beasley Cleveland Performance.. .. .. .. .. .. .. .. .. ..Walter Beasley/ Using Space,One Phrase.. .. .. .. .. .. .. .. .. ..Walter Beasley/Little Clip from Dayton Ohio.. .. .. .. .. .. .. .. .. ..www.SaxMeditations.com.. .. .. .. .. .. .. .. .. ..New!! Walter Beasley SaxTalk Tonguing Exercise.. .. .. .. .. .. .. .. .. ..New!! Walter Beasley SaxTalk Pacing 2 George Duke Explanation.. .. .. .. .. .. .. .. .. ..New!! Walter Beasley tribute to Grover clip.. .. .. .. .. .. .. .. .. .. ..Circular Breathing Made Easy...... .. .. .. .. .. .. ......Add to My Profile.. | .. More Videos.. .. .. .. ..For more videos of Walter Beasley please.. Click Here!.... .. .. ....You can also visit: www.youtube.com/user/subglottic.... ..

Influences

Ghandi, Willa Mae Brothers, Mahdi, Walter Beasley Senior,Women, Burrell Morgan, Girls who left me because they thought I would never make it :) Ladies who picked me up when I was down, Women who stand by their men, My Band, Chris Lewis, Men who stand by their Women, Those who speak truth to power, Did I say women:),Mother, Sisters, Moes, Those who use power and influence to help those in need. Andy McGhee, Dean Earl, Bill Pierce, All who came before me and those who will come after. Women :) * Geroge Duke, Santana, Sam Cooke,Pat Metheny, Dionne Warick, Cannonball Adderly, Clifford Brown, Gato Barbieri, George Benson, P Funk, Brick, David Sanborn, Donny Hathaway, Michael Ruff, Perez Prado, Kirk Whalum, Ronnie Laws, Crusaders, Pat Metheny, Aretha Franklin, Burt Bacharach, King Curtis, John Handy, Bobby Womack,Larry Woo,Frank Wilkens, Will Reinhart,Bill Hagans, Leo Okeke,Jeff Stanton, Wendell Brooks,Freddie Fox,Damon Duwhite,Paul Arnold, Lynne Fiddmont, Michelle Beckham, Ellis Hall, Mark Ledford, Derek Cannon, Jimmy Cannon. " The contents of my skin reflect the beauty of my character".

Sounds Like

"If there is an heir to Grover's throne, it's definitely found in Walter Beasley." Thomas R. Erdmann, Jazzreview.com
04:16 | 268 plays | Oct 2 2009
Bio:
..
Click!
Listen To The Whole Album Before You Buy
I just purchased sax meditations. As always your ability to play beautiful melodies is incredible. I am going to also recommend to students your DVD which I purchased as well. Keep up the great work!!! Your friend
Najee
Walter Beasley Live & More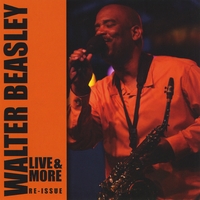 Click To Purchase
Walter Beasley Presents: 14 steps to maximizing Your Performance
For More Products & Information on Walter Beasley please feel free to visit ..
WalterBeasly.com
Walter Beasley's Performance Workshop March 4, 2007. Walter explores various topics as in improvisation, entrepenourship, historical connections while playing songs from his new record Ready for Love as well as For Her.
Walter Beasley brings you a lesson on the seemingly magical technique, Circular Breathing. By faithfully following Walter Beasley's special practice routine's you can add circular breathing to your playing repertoire.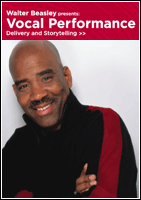 For Jazz, Pop and R&B Vocalists. This DVD includes demonstrations by Walter and lessons with vocal students. Improve phrasing, develop personality and style in your delivery, and learn how to engage an audience. Rehearse techniques using a DVD Rom practice guide and bonus audio CD.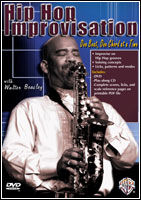 For beginning, intermediate and advanced improvisors, this DVD is the first of its kind. It will help you to make your improvisations soulful and concise. It also includes a play-along CD, complete scores, licks and printable scale reference pages.
Now available for download and on DVD! For alto, tenor and soprano saxophone. Optimize your sound, improve your pitch, get practical solutions for sound problems and unify registers.

Renowned artist and former classmate Branford Marsalis describes Walter Beasley as "an anomaly; a successful performing musician who possesses the rare skill of understanding the musical process beyond the intuitive. This special ability enables Walter to communicate with aspiring musicians in a way that removes the sense of mystery that sometimes enshrouds our profession."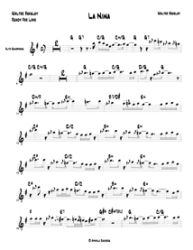 La Nina (Ready For Love) Transcription (pdf)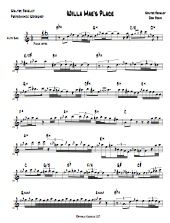 Transcription of Willa Mae's Place, as performed at the March 4th, 2007 Workshop.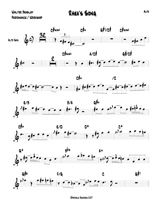 Transcription of Rhea's Song from the March 4th, 2007 Performance Workshop.
For More Transcriptions Visit
www.WalterBeasley.com
Branford Marsalis discussing jazz and r&b improv., Sting, historical connections and musicianship.
Walter Beasley recently was a guest instructor for a gospel workshop. In a lesson with a student Walter covered vibrato, pacing and delivery. They used the gospel standard Jesus You're the Center of My Joy to examine different ways to use technique's involved in vocal performance and delivery.
Walter had the chance to interview one of his hero's Ronnie Laws. In this interview they discuss Ronnie Laws career, philosophies on improv and songwriting.
Walter got the chance to sit down with Chuck Loeb and discuss his career as well as give some valuable career advice to fellow musicians. Chuck Loeb discusses his career influences, writing process and the future of the industry.
www.Walterbeasley.com
..
..
.. .. .. .. .. .. .. .. ..
..e.com/p1/216172782121743002/un_t016_v000_a001_f00/images/xslide1.gif" border="0" ismap="ismap" />
Member Since:
January 10, 2006
Members:
New! Walter Beasley Cleveland Performance
New! Walter Beasley Cleveland Performance
Walter Beasley/ Using Space,One Phrase
Walter Beasley/Little Clip from Dayton Ohio
New!! Walter Beasley SaxTalk Tonguing Exercise
New!! Walter Beasley SaxTalk Pacing 2 George Duke Explanation
New!! Walter Beasley tribute to Grover clip
Circular Breathing Made Easy
Add to My Profile
|
More Videos
For more videos of Walter Beasley please Click Here!
Influences:
Ghandi, Willa Mae Brothers, Mahdi, Walter Beasley Senior,Women, Burrell Morgan, Girls who left me because they thought I would never make it :) Ladies who picked me up when I was down, Women who stand by their men, My Band, Chris Lewis, Men who stand by their Women, Those who speak truth to power, Did I say women:),Mother, Sisters, Moes, Those who use power and influence to help those in need. Andy McGhee, Dean Earl, Bill Pierce, All who came before me and those who will come after. Women :) * Geroge Duke, Santana, Sam Cooke,Pat Metheny, Dionne Warick, Cannonball Adderly, Clifford Brown, Gato Barbieri, George Benson, P Funk, Brick, David Sanborn, Donny Hathaway, Michael Ruff, Perez Prado, Kirk Whalum, Ronnie Laws, Crusaders, Pat Metheny, Aretha Franklin, Burt Bacharach, King Curtis, John Handy, Bobby Womack,Larry Woo,Frank Wilkens, Will Reinhart,Bill Hagans, Leo Okeke,Jeff Stanton, Wendell Brooks,Freddie Fox,Damon Duwhite,Paul Arnold, Lynne Fiddmont, Michelle Beckham, Ellis Hall, Mark Ledford, Derek Cannon, Jimmy Cannon. " The contents of my skin reflect the beauty of my character".
Sounds Like:
"If there is an heir to Grover's throne, it's definitely found in Walter Beasley." Thomas R. Erdmann,
Jazzreview.com
Record Label:
Heads Up/ Affable Records
WALTER BEASLEY has 6926 friends.