No recent updates in this category.
Why not...
San Diego Emerald Society hasn't earned any badges yet... have you?
General

Music

Known as "War Pipes" the sound of Pipes and Drums can rally many hearts,

uplifting spirits with marshalling music and parade marches. In Scotland 's fight for independence

,

England outlawed the Bagpipes because of the fierce pride they inspired

,

and their ability to fill Scotsman with courage. Today

, the tradition is universal and not just for the Irish or Scottish. The pipes have come to be a distinguishing feature of a fallen hero's funeral, and marshal bands. The San Diego Firefighters' Pipes and Drums Band is comprised of all-volunteer fire service professionals whom practice and perform year-round primarily to honor our military,

firefighter

, police and other public safety agencies during funerals and memorials but also for our community at parades,

graduations

, and other special events. If you are an active or retired Firefighter living in the San Diego area and want to be part of this inspiring tradition contact us via email. No previous music ability is required, just a desire to carry on a fine tradition.

Movies

Heroes

The Brothers & Sisters at our side and those whom went before us; Our cousins in Law Enforcement and other Public Service; Our Soldiers, Marines, Sailors, Airmen, Coast Guardsman and Merchant Marines, and; of course Saint Florian, Saint Patrick, and; the original Fire Service visionary... Doctor Benjamin Franklin.

Application: [

www.sdffemeraldsociety.org/emeraldbrochure.pdf

] // For more information on joining please visit us at:

www.sdffemeraldsociety.com

// San Diegio Firefighters' Emerald Society, P.O. Box 500222, San Diego, California, 92150-0222

Please support San Diego's Pioneer Hook and Ladder Company Firehouse Museum. The Museum is located at 1572 Columbia Street (in Little Italy). Hours are Wed/Thur 10:00 - 2:00 and Sat/Sun 10:00 - 4:00.
Play

Play Next

Add to queue
About me:
21 July 2009: The FDNY Emerald Society visits Southern California and plays with The San Diego Firefighters Emerald Society, North County, Orange County and California Professional Firefighters Pipes & Drums.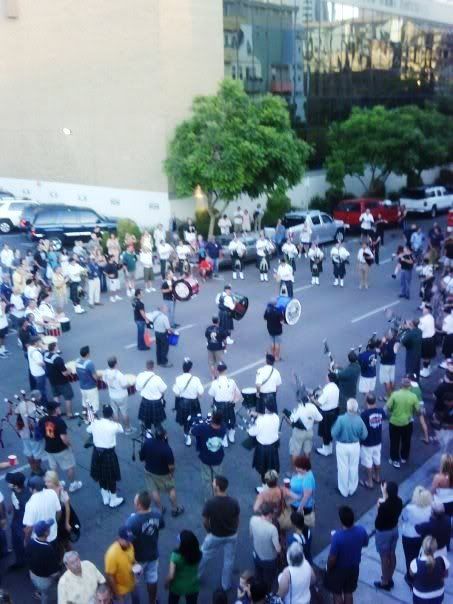 The San Diego Firefighters' Emerald Society is a fraternal organization enjoying Gaelic heritage and sharing goodwill through philanthropic activities and increasing Fire Service and Public Safety awareness in our community. We are an IRS approved non-profit 501(C)3 organization and constantly strive to support the rich and honorable traditions of the Fire Service. Emerald Society membership is open to active and retired Fire Fighters with Auxiliary opportunities for non-fire service people committed to supporting the charter and mission of the Society. Although heavily celebrated... Gaelic heritage is by no means a requirement for membership. After all, theres a wee bit of Irish in all of us! Follow this link to download a Membership Application: [
www.sdffemeraldsociety.org/emeraldbrochure.pdf
]
Status:

Swinger

Hometown:

San Diego, California

Occupation:

Community Supporter