A 1 Semana Del Concierto De La Legendaria Banda Española 037 Regresa A Guadalajara A Promocionar Su Nueva Producción Musical (Grita) Acompañados De León Obscuro. Sachiel. MoonChariot. Todas Las Edades. Cupo Limitado. 7:00 PM, Preventa $150 El Día $200 Boletos En Head Bangers Metal Store San Juan De Dios - Cultural - Baratillo Av. Agustín Yañes #1106 Esq. Calzada Del Águila A 2 Cuadras Del Cultural, (Plaza Juares) LOS MEDIOS INTERESADOS EN CUBRIR EL EVENTO MANDAR INBOX.. PARA LOGÍSTICA
Mortal Fest Mortal Fest hasn't earned any badges yet... have you?
General

Bandas que han compartido el escenario en anteriores Mortal Fest

Sargatanas

Melancholy

Sarcoma

Azevrec

Kathaden

Estigia

Ancient Serpent

Prohibitory - DF

Sanecra - Tol

Demigod - Ags

Tenebrarum - Gdl

Encounter - Gdl

Evagelium - Mich

Bifrost - Mich

Nocturnal Arr - Gdl

Necropsy - Sin

Warcrusher - Qro

Xiuhtecutli - Mex

Sarcoma - Gdl

Guadaña - Gdl

Abominor - Nay

Anorrectal Protuberance - Col

Ardra-ill - Mex

Extincion Cerebral - Gdl

Semen - DF

Black Torment - Nay

Anorrectal Protuberance - Col

Sarcoma - Gdl

Paracoccidioido - Qro

Helldance - Gto

Odity - Ags

Forsaken God - SLP

Anal Insicion - Gdl

Oldthrone - Gdl

Lust - DF

Genocide - DF

Hacavitz - DF

Pentagram - Gdl

Semen - DF

Black Torment - Nay

The Pit - Qro

Piraña - Qro

Violador - Sin

Sarcoma - Gdl

Hipermenorrea - Mich

Raped God - DF

Warcrusher - Qro

Ereshkigal - DF

Oxidised Razor - DF

Rapture - DF

Paracoccidio... - Qro

Wintermoon - DF

Violador - Sin

From Forgotten Being - DF

Cadaver - Gdl

Helldance - Gto

Axon - Pue

The Golden Age - Hgo

The Fury I Hide - DF

Septicem - Tlax

Aireard - Tamps

Incantation - USA

Morbosidad - USA

Funerus - USA

Prohibitory - DF

Sargatanas - Gdl

Piraña - Qro

Balam Acab - DF

Lahylat - DF

Septicem - Tlax

Matanza - Yuc

Alcoholokaust - Gro

Mourn Code - Ags

Inquisition - USA

Jig-Ai Rep - Checa

Strke Master - DF

Here Comes The Kraken - Ags

Nostra Morte - Nay

Feel The Pain - Qro

Baal - Ver

Fortaleza - Ver

Angeles de Acero - Mich

Gore and Carnage - Pue

Disgrace - Ags

Eternal Darkness - Cuah

Transmetal - DF

Lvzbel - DF

Anabatha - DF

zamak - DF

The Light of the Dark -DF

Hemifonia - Qro

psicovomitossis - GDL

Whoreevil - Gto

Commando - Yuc

Satania - Sin

Canonised - Mich

mas bandas por confirmar

Music

Info: accion_subterranea@yahoo.com


RECONOCIMIENTOS
OTORGADOS

TOÑO MUÑOS,
PONCHO MARTINES
(DESPEÑADERO)

JOEL MORALES
(AMERICAN LINE)

ALBERTO PIMENTEL
(TRANSMETAL)

RONNY MUNROE
(METAL CHURCH)



Nos hemos convertido en el festival más importante, masivo y reconocido de todo México (ESTO GRACIAS A TI)


Brindamos un espacio que nadie mas ofrece en toda la republica con una gran diversidad QUE CAMBIA AÑO CON AÑO (SIEMPRE IMITADO PERO JAMAS IGUALADO)


El público asistente pertenece a todas las edades, status sociales, económicos y culturales, y una gran cantidad de audiencia nos visita exclusivamente desde distintos estados de toda la república (GRACIAS POR SU APOYO)


Estaciones de radio, periódicos, fanzines, televisoras, páginas de Internet, revistas virtuales, y todos los medios de comunicación son bienvenidos a la cobertura del mortal fest 2010 (ACREDITACIONES CON PREVIA SOLICITUD)


¡¡SUMATE A ESTE PROYECTO, NO FALTES, NO TIENES PRETEXTOS, YA SABES LA FECHA!!



PROMOTORES OFICIALES QUE ORGANIZAN VIAJES DE CAMIONES AÑO CON AÑO QUE TRABAJAN PARALELAMENTE CON NOSOTROS
____________________


DISTRITO FEDERAL
cel. 55-16-49-95-34
alprods@hotmail.com
www.myspace.com/
americanlineprods

www.alprods.net


ZAMORA MICHOACAN
cel. 351-103-52-22
vampire.incubus@
gmail.com

vampire_evildark@
hotmail.com

www.myspace.com/
vampireincubus666

www.myspace.com/
vampireincubus

www.vampireincubus.tk


QUERETARO QUERETARO
tenebrae musica
cel 4423-52-52-55
TEL.2-24-05-82
alvaraxar@
hotmail.com myspace.com/
511260753

emf.records@ gmail.com


www.myspace.com/
emfrecords

www.emf.records.net


TEPIC NAYARIT
sadistiko666@ hotmail.com


www.myspace.com/
blacktorment666

www.blacktorment.tk


NUEVO LAREDO TAMAULIPAS
cel 867-144-5507
derramedesangre@
hotmail.com

www.myspace.com/
undergroundmetalprods


ZACATECAS ZACATECAS
Cel. 3315691652
kone_pro@
hotmail.com

www.myspace.com/
prometio1

MORELIA MICHOACAN
sister_nigthfall@ hotmail.com


TEL, 44333126288,
O CEL 0444432439717

www.myspace.com/
461757029


ACATLAN DE JUARES
JALISCO
rockXplotion@
hotmail.com
aldo cerda hermosillo
cel: 3314445205
juan amezcua ochoa
cel: 3312443458
myspace.com/r
ocxplotion07

AGUASCALIENTES AGS
kirieleison_cae@
hotmail.com

www.myspace.com/
ugoheadbanguer



¿Te interesa organizar un camión desde tu Ciudad?
Te mandamos todo lo necesario un promo-pack, pre- fliyers, carteles, tripticos, baners, spots de radio, o tv, para que la gente de tu localidad esté enterada del viaje que tú estarás organizando un viaje al Mortal Fest 2010 y tu info sera publicada por internet; que tú eres la persona que puede traerlos a este festival. Tenemos un precio especial a promotores interezados (porfavor unicamente gente seria)




MORTAL FEST 2010


Transmetal - Thrash Metal - Mexico D.F.


Anabantha - Metal Gothico - Mexico D.F.


LVZBEL - Heavy Metal - Mexico D.F.


zamak - Death Metal - Mexico D.F.


The Light of the Dark - Death/Black Metal - Mexico D.F.


Ultratumba - Metal Mexicano - Mexico D.F.


Psicovomitosis Sadinecrootitis - Pornogore - Guadalajara, Jalisco


Alfa Eridano Akhernar - War Metal - Xalapa, Veracruz


Whoreevil - Brutal Goregrind - Leon, Guanajuato


Commando - Thrash Metal - Merida, Yucatan


Satania - Thrash Metal - Mazatlán, Sinaloa

Canonised - Death Metal - Zamora, Michoacan


Mortal Fest Guadalajara (Sitio Oficial) has 5138 friends.
Play

Play Next

Add to queue

Play

Play Next

Add to queue

Play

Play Next

Add to queue

Play

Play Next

Add to queue
About me:
..
ES LA ORGANIZACION QUE DECIDIO CREAR EL MORTAL FEST.
..
La idea nació en el año 1998 de juntar bandas de distintos géneros que por su cuestión musical no tocaban juntas. En el primer Mortal Fest se presentaron únicamente las mejores bandas tapatías, y fue tal la aceptación del público, que el festival se convertiría en una necesidad para la ciudad de Guadalajara, y así se decidió crear en 1999 una Expo/Festival donde se pudiera comprar, vender, intercambiar música propia o de otras bandas, playeras, accesorios, etc.
Este espacio es para las bandas que son las mas represtativas actualmente en la republica mexicana, de varios generos del metal dando una plataforma musical importante, para que demuestren simplemente por que son las mejores de su ciudad.
..
..

Es un acto simbólico de valorar el trabajo de alguien dentro del movimiento subterraneo, que solo con esfuerzo, dedicación y huevos ha logrado estar vigente a través de los años. Este año le otorgaremos el presente reconocimiento a Bruce Corbitt voz actual de la legendaria banda de metal de los 80's Rigor Mortis
Se destinaran areas adecuadas para el tatuaje y la perferacion estando presentes los estudios mas importantes de este concepto.
..
..

un espacio de oportunidades para pequeñas como grandes empresas, para que den a conocer lo que distribuyen o fabrican. se acondicionaran lugares para la expo-venta con mesas, sillas, toma de luz, lo necesarios para los stands esten comodos, facilitandole la pauta para que se den a conocer con la gente de jalisco, como el publico que nos visitan de varios estados de la republica.
..
..

Exiviendo sus distintas manifestaciones artisticas plasmadas en pintura, escultura, pirograbado, aerografia, dibujo, con verdaderos artistas subterraneos.
..
..

5 horas de los mejores filmes de las productoras mas extremas y sangrientas al nivel mundial.

Gore-Fangoria Productions

Tartan Asia Extreme

Unearthed Films

Shriek Show

Barrel Entertainment
Siempre contamos con lo mejor de la moda contracultural underground dark, fetish, gothic, modelado por bellas edecanes.
..
..

En esta ocacion contaremos con un grupo de luchadoras, que su contienda cera en lodo y que haran lo necesario para entretener y deleitar al publico asistente..
Como es costumbre de los organizadores renovar espectaculos para que sea mas entretenido para las personas que nos visitan en la expo año con año. ahora con un concepto inovador y esperando que se quede como otra atracion mas del festival el ROCK AND TABLE como su nombre lo dice mezclaremos el rock con bailes eroticos dando un ambiente de sexualidad con su respectivo atractivo visual, acargo de nihg club galeon.

Create a MySpace Music Playlist at MixPod.com
------------------------
Layout Hecho Por:
BRUTAL DISORDER LOGOS
.. .. .. .. ..
!!! Start Code To Apply Top Banner !!!!
...... ......
Custom top banner code by Eileen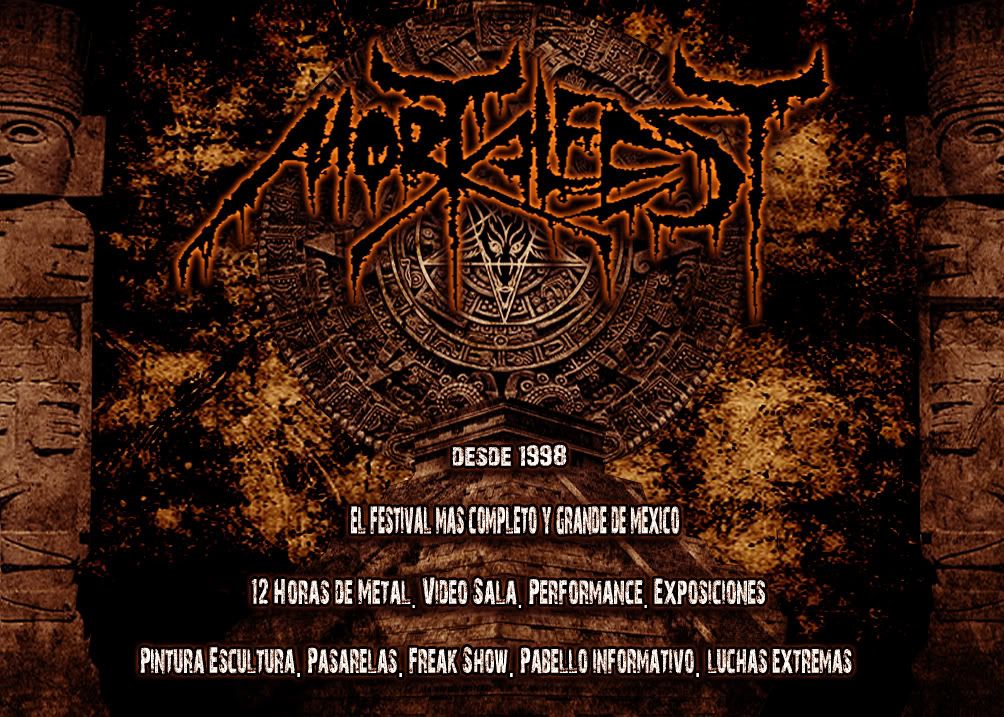 ..
!!! End Code To Apply Top Banner !!!
Who I'd like to meet:
......
Status:

Single

Zodiac Sign:

Capricorn

Occupation:

ORGANIZACION DE EVENTOS