Play

Play Next

Add to queue
Play

Play Next

Add to queue

4,864 plays

Play

Play Next

Add to queue

1,018 plays

Play

Play Next

Add to queue

3,080 plays

Play

Play Next

Add to queue

2,713 plays

Play

Play Next

Add to queue

8,169 plays
Genre: Folk / Indie / Melodramatic Popular Song

Location Brooklyn, New York, US

Profile Views: 88060

Last Login: 4/1/2011

Member Since 7/24/2005

Website dancostellomusic.com

Record Label Pumpkin Guts

Type of Label Indie

Bio

..Dan Costello's fifth album "Live in Zürich" is out now. The fourth album, "Recession songs, is a free download!..Click image to download.. ........ ...... DAN COSTELLO is a Brooklyn Songwriter. He's a member of the Freelancers Union and various arts organizations. He has played hundreds of concerts all over Europe, Canada and the United States. His five albums: "Halloween Baby", "Come Home", "Costello", "Recession Songs" and "Live in Zurich" are all available at dancostellomusic.com. "Recession Songs" is free.....In 2009 Dan toured Europe three separate times, playing over 100 shows abroad, and he released "Recession Songs", a folk album about hard times.  On the third trip, called "The Great Grand Tour", Dan travelled through 15 countries over three months, visiting his ancestral homelands in Ireland, Ukraine and Belarus.  He is working on a book and stage show based on this revelatory journey. .... In 2010 Dan and his fiancee and musical partner Rachel Devlin toured Europe as a folk-duo and hosted the first-ever New Artists Program at the Old Songs Festival in Altamont, NY.  They are planning two new albums, one new band, and a life together. .... Dan is a proud uncle of the cutest kid on the whole planet..... .. .. .. .. .. .. ......Costello, "Poison".. from ..Dan Costello.. on ..Vimeo......."Few singer-songwriters have a stage presence as welcoming and engaging as Dan Costello. Dan Costello comes to entertain, and he succeeds. Costello writes and performs vividly-worded folk songs in the anti-folk tradition: smart, funny, quirky, powerhouse songwriting, distinctly New York. Armed with a booming, clear voice and a six-string, Costello sings his thoughtful, intelligent lyrics from the heart. His performance was full of energy and imagery, and even a bit of the theatrical – Very cool!" - Jezebel Music ...... DOWNLOAD MUSIC AT ..dancostellomusic.com................Join the Dan Costello mailing list!................................The Facts..:.... Stepping out of the cultural cross streets of Brooklyn, Dan Costello's sound breaks all the musical molds. Writing from the influence of Folk, Rock, Jazz, Hip Hop and Broadway, Dan's songs cannot be restricted to any particular genre, as he fashions new sounds out of his eclectic influences. .... Dan is an independent musician, having quit his corporate music job in January 2006. He works as a sound engineer, a recording engineer, a piano player, an open-mic host, an audio consultant, and occasionally as an album producer. He's a member of the Freelancers Union and various arts organizations. He has toured all over Europe, Canada and the United States. Dan plays as a member of Creaky Boards, and sometimes with Eric Wolfson and the War Cabinet, Felt Light Strikes, and Brook Pridemore and The Valley Cubs. Dan has produced albums for Soft Black, Annie Crane, Ben Godwin, and Peaks and Valleys and many more. .... His four albums of original music, "Halloween Baby", "Come Home", "Costello", and "Recession Songs" are available at ..dancostellomusic.com.. .... In 2006 Dan was one of the founders of Brooklyn Tea Party, a non-political artists workspace in Bushwick. Read about that at ..myspace.com/brooklynteaparty.. .... .. Read The Breakthru Radio Interview! .. .... other quotes:.. "A little bit country, a little bit, um.. other weird, cool stuff." - Boulder Weekly.... "This folk-rapper-poet is [in] magically in-your-face in a pleasant way (but not too pleasant). Humorous social criticisms percolate tastily throughout his songs, a refreshing blast of lyrics in a songwriter climate of confessionals and narcissisms." ..--Gabriel Levitt, ..jezebelmusic.com..

Members

Dan Costello and Rachel Devlin

Influences

Woody Guthrie, Harry Nilsson, Nina Simone, Ruth Pelham, Herbie Hancock, Buck 65, Little Richard, Eric Wolfson, Jerome Kern, Phil Ochs, M. Lamar, Brooklyn, Johnny Cash, Creaky Boards, RUN D.M.C., Oscar Peterson, Lach, Loretta Lynn, Ahmad Jamal, Daniel Bernstein, Grateful Dead, Joie DBG, Outkast, Leonard Bernstein, Black Star, Pete Seeger, Milk Kan, Michael Chabon, Citizen Cope, Brook Pridemore, Pink Floyd, Jason Robert Brown, The Bobby McGees, John Poulos and My Brothers. Drugs. Depression. Showtunes. "Lift Every Voice and Sing." Rachel Devlin. Michael David Campbell. U. Utah Phillips, My Mom and My Dad.

Sounds Like

"Even when he's singing about relationships gone awry, Dan Costello sounds like he's having a hell of a good time. The piano-pounding showman has an affinity for pot, a natural predilection for pumpkins, and a knack for making happiness pie out of prison food. The best part about it all is that Costello knows how to make music, and it's the kind that everyone can relate to." - Breakthru Radio (read the interview.. here..).... "Dan Costello knows how to make an impression. Fusing folk and hip-hop, his unmistakable songs convey an unforgiving sense of the world, life, love, and getting arrested for hanging flyers on a lamppost. Straight-up!" - Dan Dipollito (Attention Driver).... "Randy Newman playing a whorehouse at gunpoint" - Eric Wolfson.... "I've never heard anything like that from a white guy with a guitar" - Karl Wilson.... "So Harry Nilsson and John Prine smoke a joint at Flava Flav's house..." - Lach.... "Jovial, Good Beard." - Dave Cuomo.... "When I was an 11 year old at JCC Summer Camp I learned all the words to Rump Shaker and was yelled at by my counselor for demeaning women. Then I kicked her girlie ass in Capture The Flag." - Me
Bio:
Dan Costello's fifth album "Live in Zürich" is out now. The fourth album, "Recession songs, is a free download!
Click image to download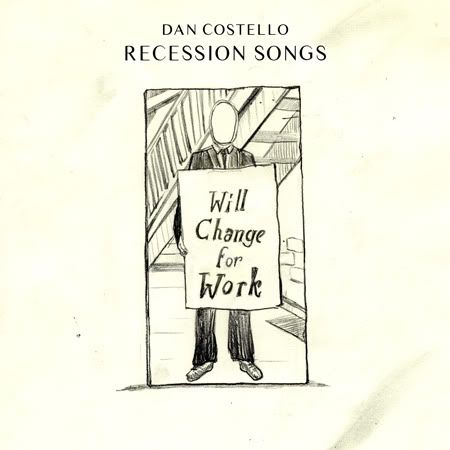 DAN COSTELLO is a Brooklyn Songwriter. He's a member of the Freelancers Union and various arts organizations. He has played hundreds of concerts all over Europe, Canada and the United States. His five albums: "Halloween Baby", "Come Home", "Costello", "Recession Songs" and "Live in Zurich" are all available at
dancostellomusic.com
. "Recession Songs" is free.
In 2009 Dan toured Europe three separate times, playing over 100 shows abroad, and he released "Recession Songs", a folk album about hard times.  On the third trip, called "The Great Grand Tour", Dan travelled through 15 countries over three months, visiting his ancestral homelands in Ireland, Ukraine and Belarus.  He is working on a book and stage show based on this revelatory journey.
In 2010 Dan and his fiancee and musical partner Rachel Devlin toured Europe as a folk-duo and hosted the first-ever New Artists Program at the Old Songs Festival in Altamont, NY.  They are planning two new albums, one new band, and a life together.
Dan is a proud uncle of the cutest kid on the whole planet.
Costello, "Poison"
from
Dan Costello
on
Vimeo
.
"Few singer-songwriters have a stage presence as welcoming and engaging as Dan Costello. Dan Costello comes to entertain, and he succeeds. Costello writes and performs vividly-worded folk songs in the anti-folk tradition: smart, funny, quirky, powerhouse songwriting, distinctly New York. Armed with a booming, clear voice and a six-string, Costello sings his thoughtful, intelligent lyrics from the heart. His performance was full of energy and imagery, and even a bit of the theatrical – Very cool!" - Jezebel Music
DOWNLOAD MUSIC AT dancostellomusic.com
..Join the Dan Costello mailing list!
......
..The Facts..:
Stepping out of the cultural cross streets of Brooklyn, Dan Costello's sound breaks all the musical molds. Writing from the influence of Folk, Rock, Jazz, Hip Hop and Broadway, Dan's songs cannot be restricted to any particular genre, as he fashions new sounds out of his eclectic influences.
Dan is an independent musician, having quit his corporate music job in January 2006. He works as a sound engineer, a recording engineer, a piano player, an open-mic host, an audio consultant, and occasionally as an album producer. He's a member of the Freelancers Union and various arts organizations. He has toured all over Europe, Canada and the United States. Dan plays as a member of Creaky Boards, and sometimes with Eric Wolfson and the War Cabinet, Felt Light Strikes, and Brook Pridemore and The Valley Cubs. Dan has produced albums for Soft Black, Annie Crane, Ben Godwin, and Peaks and Valleys and many more.
His four albums of original music, "Halloween Baby", "Come Home", "Costello", and "Recession Songs" are available at
dancostellomusic.com
In 2006 Dan was one of the founders of Brooklyn Tea Party, a non-political artists workspace in Bushwick. Read about that at
myspace.com/brooklynteaparty
Read The Breakthru Radio Interview!
other quotes:
"A little bit country, a little bit, um.. other weird, cool stuff." - Boulder Weekly
"This folk-rapper-poet is [in] magically in-your-face in a pleasant way (but not too pleasant). Humorous social criticisms percolate tastily throughout his songs, a refreshing blast of lyrics in a songwriter climate of confessionals and narcissisms."
--Gabriel Levitt,
jezebelmusic.com
Member Since:
July 24, 2005
Members:
Dan Costello and Rachel Devlin
Influences:
Woody Guthrie, Harry Nilsson, Nina Simone, Ruth Pelham, Herbie Hancock, Buck 65, Little Richard, Eric Wolfson, Jerome Kern, Phil Ochs, M. Lamar, Brooklyn, Johnny Cash, Creaky Boards, RUN D.M.C., Oscar Peterson, Lach, Loretta Lynn, Ahmad Jamal, Daniel Bernstein, Grateful Dead, Joie DBG, Outkast, Leonard Bernstein, Black Star, Pete Seeger, Milk Kan, Michael Chabon, Citizen Cope, Brook Pridemore, Pink Floyd, Jason Robert Brown, The Bobby McGees, John Poulos and My Brothers. Drugs. Depression. Showtunes. "Lift Every Voice and Sing." Rachel Devlin. Michael David Campbell. U. Utah Phillips, My Mom and My Dad.
Sounds Like:
"Even when he's singing about relationships gone awry, Dan Costello sounds like he's having a hell of a good time. The piano-pounding showman has an affinity for pot, a natural predilection for pumpkins, and a knack for making happiness pie out of prison food. The best part about it all is that Costello knows how to make music, and it's the kind that everyone can relate to." - Breakthru Radio (read the interview
here
)
"Dan Costello knows how to make an impression. Fusing folk and hip-hop, his unmistakable songs convey an unforgiving sense of the world, life, love, and getting arrested for hanging flyers on a lamppost. Straight-up!" - Dan Dipollito (Attention Driver)
"Randy Newman playing a whorehouse at gunpoint" - Eric Wolfson
"I've never heard anything like that from a white guy with a guitar" - Karl Wilson
"So Harry Nilsson and John Prine smoke a joint at Flava Flav's house..." - Lach
"Jovial, Good Beard." - Dave Cuomo
"When I was an 11 year old at JCC Summer Camp I learned all the words to Rump Shaker and was yelled at by my counselor for demeaning women. Then I kicked her girlie ass in Capture The Flag." - Me
Record Label:
Pumpkin Guts